Enjoy this recipe of chef Javier Turmo Clavería with our Anayón Parcela 15 2017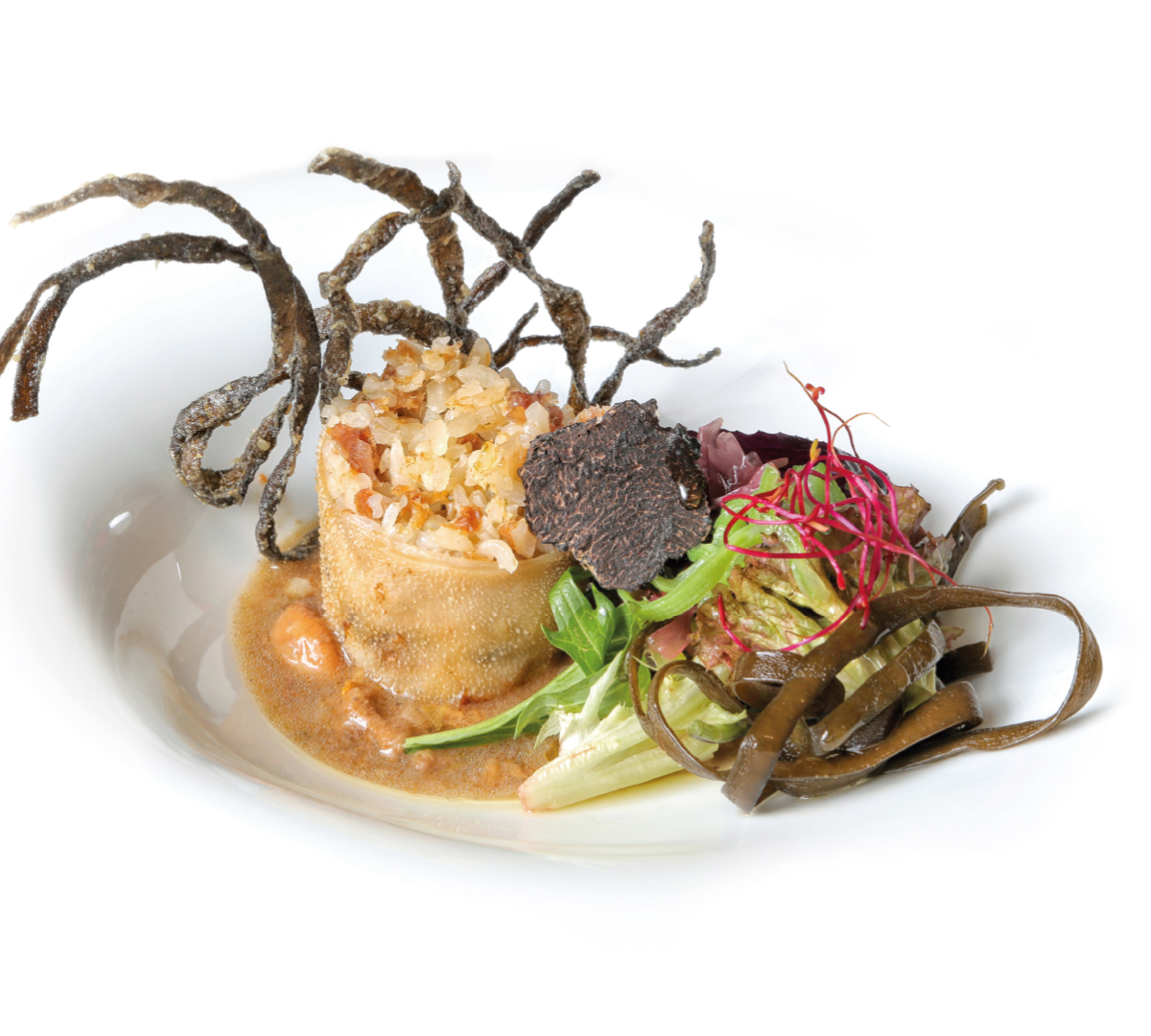 Graus "chiretas" with cod
Ingredients
For the "chireta" (haggis) stuffing:

120

g.

of rice

60

g.

of lamb

60

g.

of vegetables (onion, carrot, leek, garlic, parsley)

salt

powdered truffle

oil

truffled brandy

lamb stomach (4 pieces, 8 inch per 8 inch)

For the land of cacao and truffle:

25

g.

of butter

30

g.

of flour

35

g.

of powdered cacao

10

g.

of powdered truffle

For the airy truffle:

10

g.

of truffle

1

l.

of water

1

g.

of soy lecithin

For the cod:

100

g.

of cod skin

extra virgin olive oil

garlic

fish broth made from cod skin
Instructions
For the "chireta"(haggis) stuffing: Fry the lamb until golden brown. Add the vegetables. Add the rice and stir all together for 2 minutes and season. Remove from fire and add truffled brandy. In one of the pieces of stomach place 2 table spoons of the stuffing and sprinkle with the truffle. Sew in a manner that the stuffing remains inside, and it should occupy a quarter of the stomach capacity as the rice will expand and completely fill the remainder of the space. Set aside.

For the land of cacao and truffle: Heat the butter in the microwave for 20 seconds so it goes soft but not liquid. Add the flour and the cacao and mix. Spread on a baking paper and place in the oven at 85 Cº for 50 minutes. When removed from the oven it will be rigid. Break into pieces that resemble pieces of earth. Sprinkle with truffle.

For the cod: Lightly fry the garlic clove in oil. Remove the clove and add the cod, the cooked potato and the fish broth until achieving a smooth texture. Spread-out the fish skins on Silpat and dry. Fry them in very hot olive oil.

Remove the skin from the "chireta" and cut a strip of about 80 g. Place the fried fish skins on the strip. Place cod and more skin on top. In a corner of a plate place the truffle land and in another corner the vegetable puree.
Javier Turmo Clavería
Javier Turmo is an old school cook, the ones that started when they were fifteen years old by cleaning pots and pans. A precocious business man, he was only seventeen when he opened El Pesebre in Benasque, in the Pyrenees, as a grill and salad restaurant. Soon afterwards he began evolving to a menu and a local product based restaurant.
Cook and truffle farmer, he divides his energy between the promotion of truffles and his restaurant, which two years ago he moved to Graus.
The recipe of Graus "chiretas" as well as the Chef bio is an extract of the Golden Book of the Aragonese Cuisine first edition, an International Gourmand World Cookbook Award as the best book in Spanish in the "Local Cuisine" category.