Enjoy this recipe of chef Cleidiane Da Silva with our El Circo. Equilibrista. Cariñena 2018.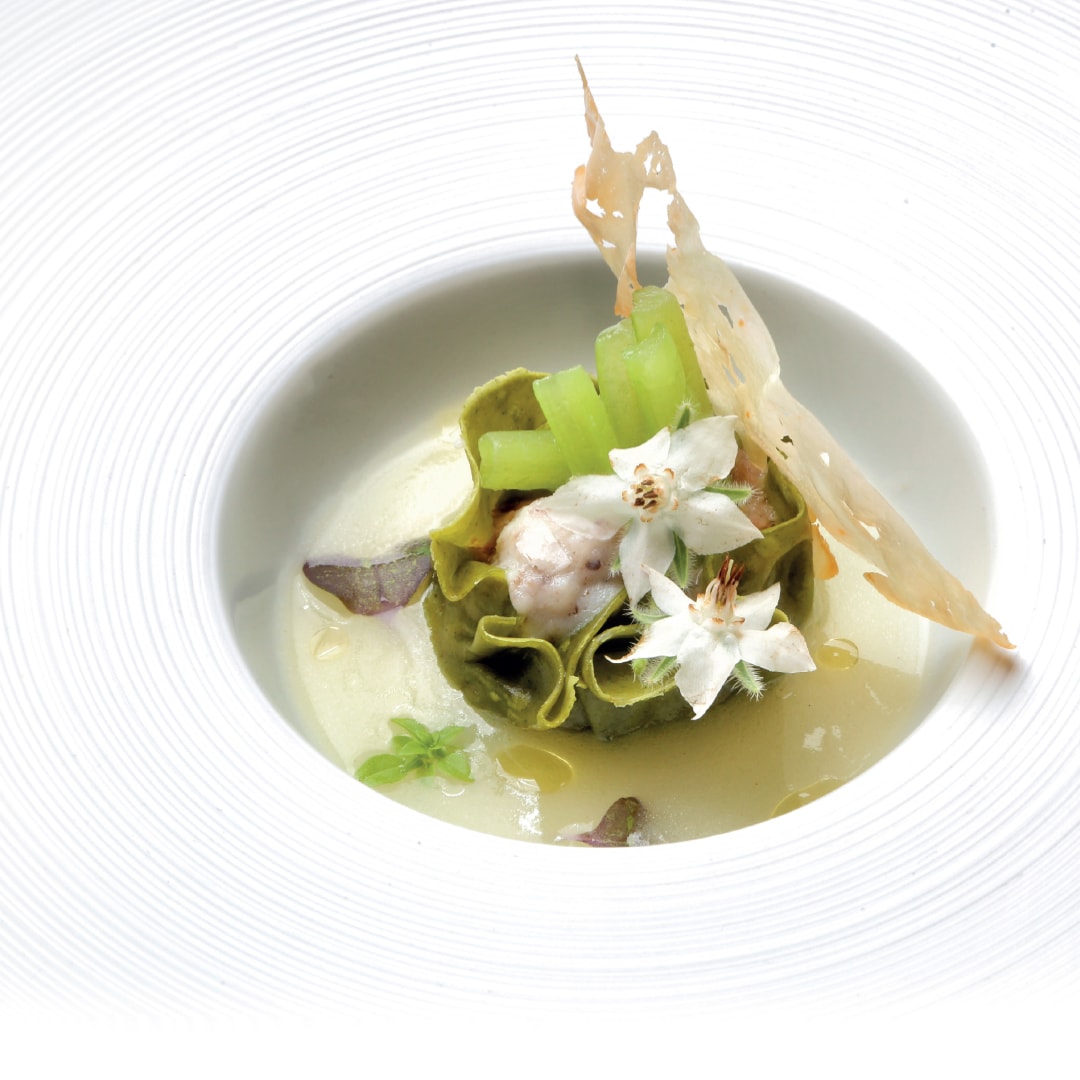 Dim-sum of borage and Ternasco de Aragón
Ingredients
200

g.

of white flour

100

ml.

of borage broth

salt

stalks and tender leaves of borage

For the filling: For the filling:

neck of Ternasco de Aragón (young lamb)

salt and garlic

thyme, rosemary and bay leaves

porcini mushrooms

sweet onions

black truffle

Other ingredients:

sheep cheese from Lower Aragón
Instructions
For the dim-sum: Blanch the borage leaves and stalks and plunged into ice water. Chop in a blender. Heat the broth and add the flour until obtaining a homogenous paste. Allow it to rest for 30 minutes. Knead the dough for about 30 seconds. Form into equal size balls. Shape each piece into a disc 3 to 4 inches wide. Place disc in your hand and add filling, and close into a sack. Steam them for 5 to 6 minutes.

For the filling: Place the lamb in a vacuum bag with olive oil and garlic. Place it in a steam oven at 70 Cº for approximately 14 to 16 hours until tender. Once cooked de-boned and clean away the fat and any gristle. Lightly fry garlic, sweet onions and porcini mushrooms. Mix in the cleaned lamb and finish by sprinkling with grated truffle. Form the filling into a cylinder shape with waxed paper and leave to chill in the refrigerator. Once it is chilled cut into small slices.

Place the onion puree in a soup plate and add the dim sum on top. Cover with truffle cream, stems and flowers of borage and the sheep cheese tuile. Poor small amount of virgin olive oil from Lower Aragón.
Cleidiane Da Silva Figueredo
She had the luck of the Irish. Cleidiane Da Silva moved to Aragón from Brasil in 2006 and since 2010 has been the head chef at the restaurant La Parrilla de Albarracín, her first job in Spain. Her parents owned a restaurant in Brazil and she was always with her mom in the kitchen.
With Juanjo Banqueri as her mentor, she has learned and incorporated the updated Aragonese gastronomy –which defines Parrilla de Albarracín- as her own.
The recipe of Dim-sum as well as the Chef bio is an extract of the Golden Book of the Aragonese Cuisine first edition, an International Gourmand World Cookbook Award as the best book in Spanish in the "Local Cuisine" category.