Enjoy this delicious recipe with our Beso de Vino Syrah & Garnacha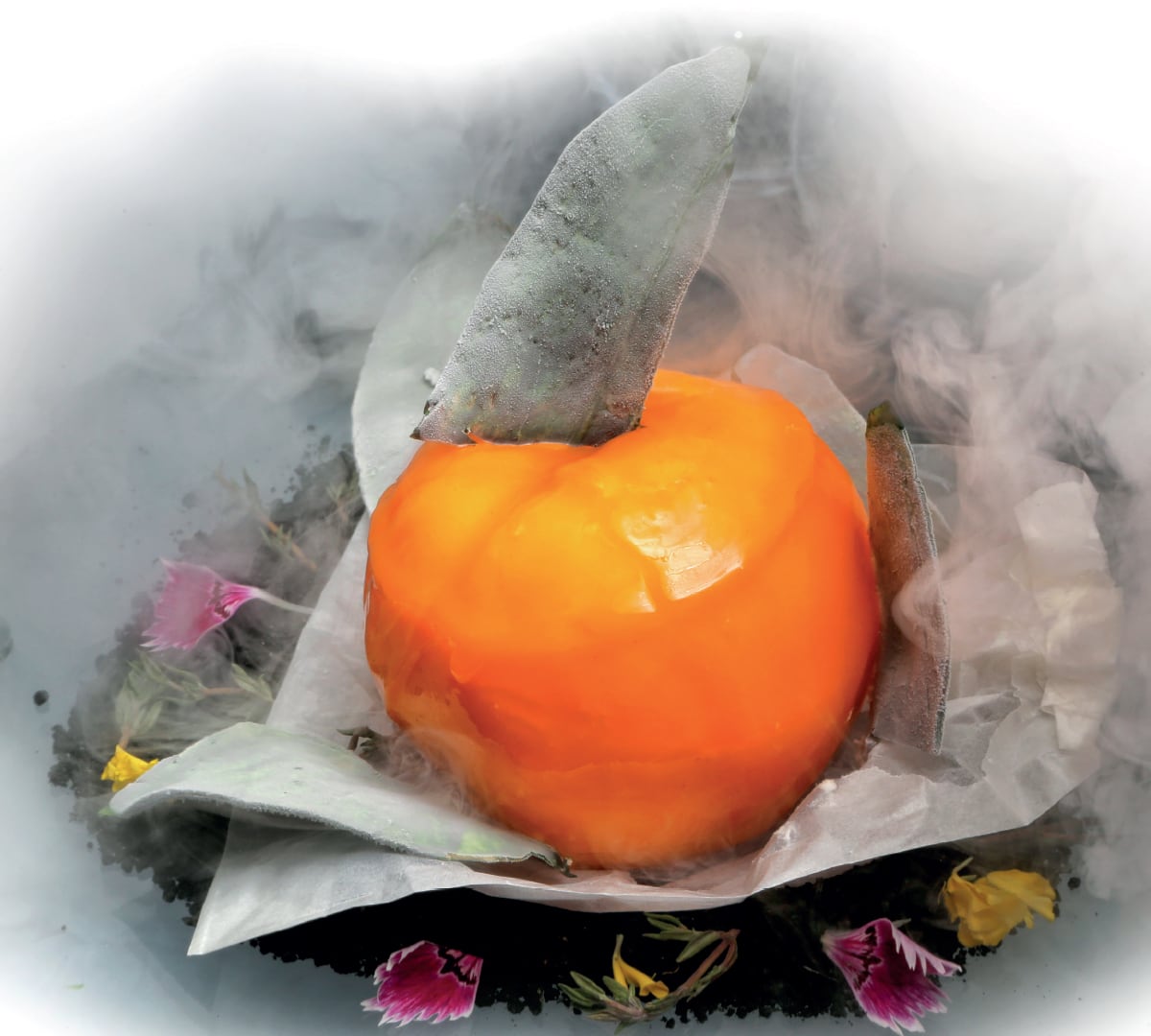 Mist over the Calanda field
Ingredients
100 g

rice

50 g

Cured ham from D.O. Teruel

50 g

Yellow foot mushrooms

50 g

Cured cheese from El Moncayo

Extra virgin olive oil from Lower Aragón

Liquid cream

Ham bone

Kappa (quick coating gelatine)

Thinly sliced cured ham.

Black olive pate

Crispy onions bits
Instructions
Blend together the crispy onion bits, the black olive pate and the previously dried thinly sliced cured ham until it is chopped to a fine powder.

Prepare a risotto with cured ham and yellow foot mushrooms. Blend and place on top of previously prepared peach flan molds.

Allow to chill, turn out of molds and bathe in a ham gelatin.

Dye the remaining ham green and form into the shape of leaves, and bathe in nitrogen so they are brittle.
Olga Gascón Fraga
Olga Gascón is fighting for a dream that she now shares with his brother Javier. The young cook from Calanda finally managed to open her restaurant Almendro's in 2013 in her home town. Restless and creative, she uses cooking as a way to exploit her artistic side. She trained in the Escuela de Hostelería de Teruel and she has worked in large kitchens in Zaragoza, Teruel, Aínsa and the Basque Country. From her hometown she defends a gastronomy based around the products of Bajo Aragón, Teruel and Aragón, in that order.
The recipe of mist over the Calanda field as well as the Chef bio is an extract of the Golden Book of the Aragonese Cuisine first edition, an International Gourmand World Cookbook Award as the best book in Spanish in the "Local Cuisine" category.