Basic ingredients of our traditional gastronomy, such as borage or potato, created by the hand of Clara Cros Lacal, bring a new dimension to flavor. How about a glass of El Circo, Payaso, Garnacha Rosé to accompany it? We find it´s the ultimate pairing.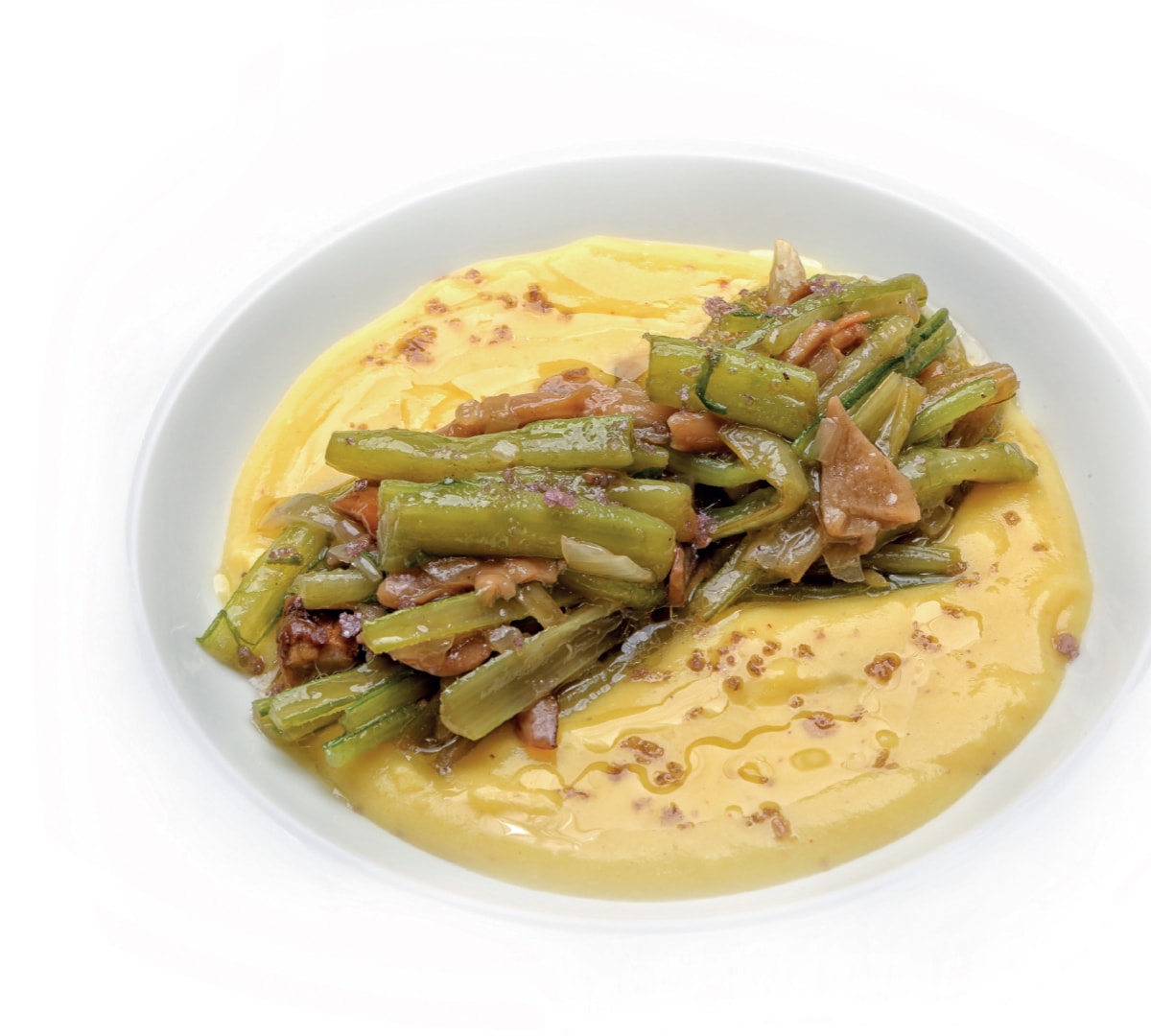 Borage, king oyster and portobello mushrooms and potato
Ingredients
Borage

King oyster mushrooms

Portobello mushrooms

Fuentes onion

Olive oil

Potatoes

Milk

Butter

Salt

Nutmeg

Black pepper
Instructions
Cut the borage and bring it to boil. Cook to your liking. Place it in cold iced water and reserve.

Peel and chop the onion. Lightly fry over a low heat in olive oil until soft.

Chop the mushrooms and sauté them with olive oil. When al dente, add the cooked onions and borages.

Lightly fry altogether to allow the flavors to mix.

Peel, cut and boil the potatoes leaving the starch in the pot.

Add some milk and mix with the blender until thick and creamy.

Add grated nutmeg, black pepper and a pinch of salt and continue mixing until achieving a fine puree.
Notes
To Assembly: Place the mashed potatoes in a soup plate. Arrange the other vegetables on top. Garnish with a little oil and some salt flakes.
Clara Cros Lacal
Clara Cros was compelled to work in La Rebotica, her parent's restaurant in Cariñena, but over time this obligation has converted into devotion. Unlike her mother –Nati Lacal- she studied cooking in the Escuela de Hostelería de Miralbueno. Nevertheless she says that her greatest influence is her mother, who instilled in her a passion for home cooking, from locally sourced products and served in a warm manner.
The recipe of borage, king oyster and portobello mushrooms and potato as well as the Chef bio is an extract of the Golden Book of the Aragonese Cuisine first edition, an International Gourmand World Cookbook Award as the best book in Spanish in the "Local Cuisine" category.