Enjoy this tasty recipe with our Anayón Chardonnay.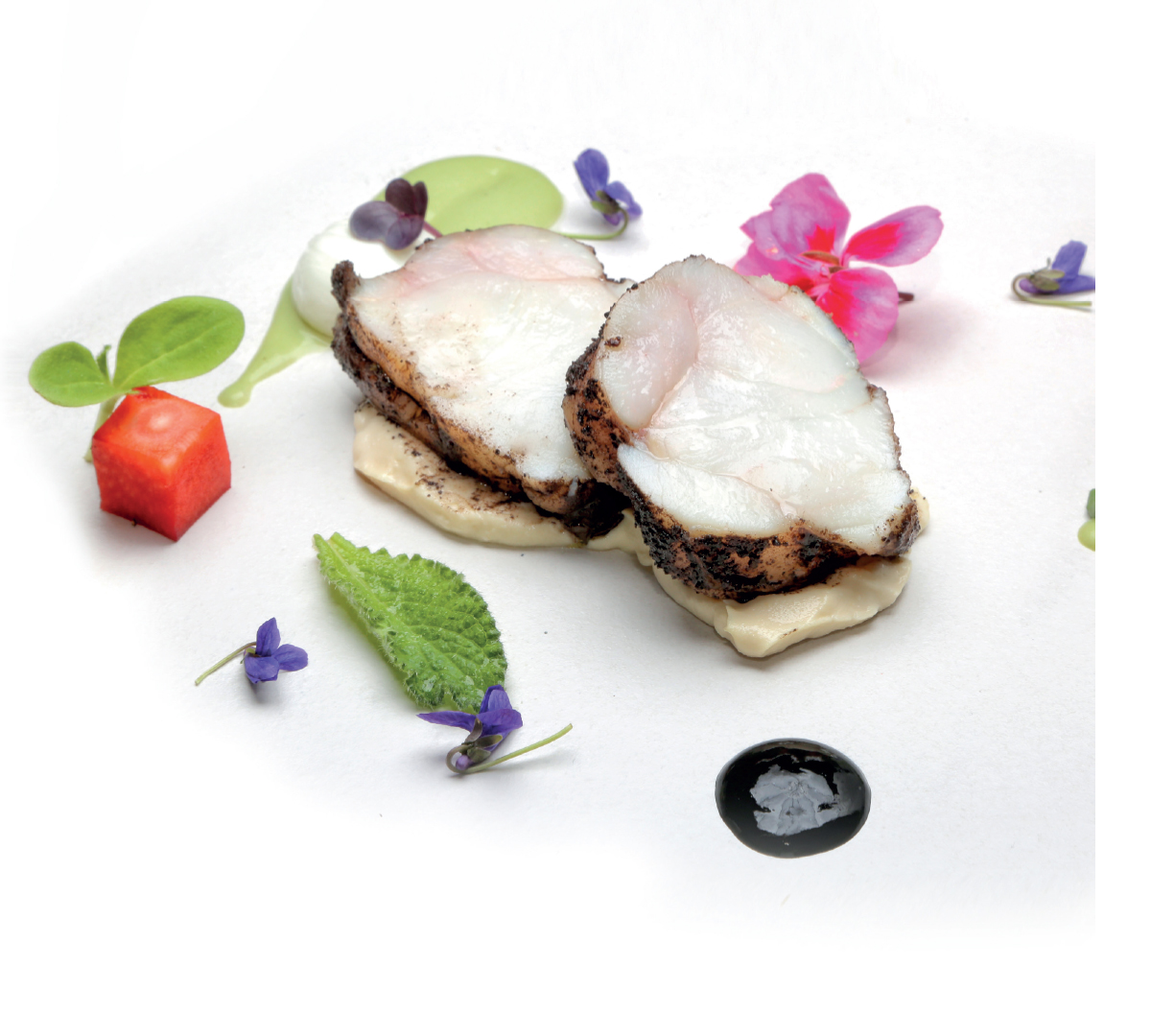 Black monkfish with Alto Aragón "ajada", creamed borages and "Tronchon" cheese sphere with black olive oil from Bajo Aragón
Ingredients
For the "Ajada" (garlic sauce):
Potatoes

Egg yolks

cream

truffle

salt

Pepper

garlic

Olive oil from Lower Aragon
For the creamed borage:
Borage

cream

xanthan gum

salt
For the cheese:
"Tronchon" cheese

Milk

Salt

Alguinate
Instructions
For the Ajada: Boil the potatoes in their skins. Peel and mash with the egg yolks and the oil leftover from frying the garlic, the cream and the grated truffle. Set aside.

For the creamed borage: Cook the borage and chill rapidly (in a bowl of iced water) to preserve the color. Mix with a little cream and thicken with Xanthatn gum. Set aside.

For the cheese: Dissolve the cheese in milk until achieving the desired texture. After it is chilled, using a spoon, drop into a prepared water and alginate mixture creating a sphere. Set aside.

For the black oil: Remove the stones from the olives. Dry in the oven at 80 Cº for 12 hours. Finely chop in a blender and add the olive oil. Set aside.

For the monkfish: Place a small amount of the black olive oil in a saute pan and bring it to a temperature of 80 Cº. Add the monkfish and cook until done (when cut it will be pearl white in the center).
Notes
To assembly: place the monkfish on top of a portion of the "ajada" on a plate, and accompany with the sphere of cheese and the creamed borage sauce. Decorate with a few drops of the black oil.
Pedro Martín Arguedas
Pedro Martín enjoys cooking and this is displayed in his daring and colorful dishes. Since 2002 he has been in charge of the dynamic kitchen in El Foro, where he is always creating, organizing themed days and defending the produce from his land. He began cooking at home in Alhama de Aragón, and these are the flavors and aromas that he is always looking for while remaining open to fresh new ideas. A long professional trajectory that includes large scale catering, restaurants as well as important hotels like Melia and Boston have made Pedro a multifaceted cook whose joyfulness is infectious.
The recipe of black monkfish with Alto Aragón "ajada", creamed borages and "Tronchon" cheese sphere with black olive oil from Bajo Aragón as well as the Chef bio is an extract of the Golden Book of the Aragonese Cuisine first edition, an International Gourmand World Cookbook Award as the best book in Spanish in the "Local Cuisine" category.