"Excellent" qualifications on international awards and recognitions that Grandes Vinos has collected on the first three months of this year.
MUNDUS VINI has become one of the most prestigious wine contest in the world and Grandes Vinos has reached 6 Gold Medals and 5 Silver Medals to our wines. Gold Medals have gone to ANAYÓN Cariñena 2013, Beso de Vino Old Vine Garnacha 2014, El Circo Garnacha 2015 and HOY Chef. At the same time, the five Silver Medals have gone to CORONA DE ARAGON Special Selection 2013, Monasterio de las Viñas Crianza 2010, Beso de Vino Syrah & Garnacha 2014, El Circo Syrah 2015 and El Circo Cabernet Sauvignon 2015.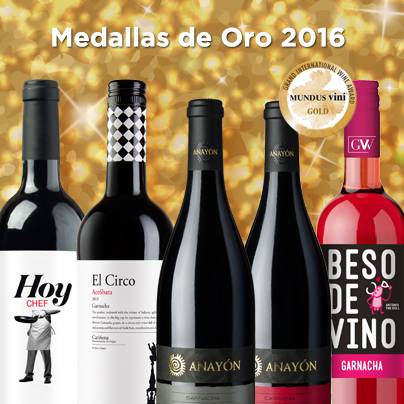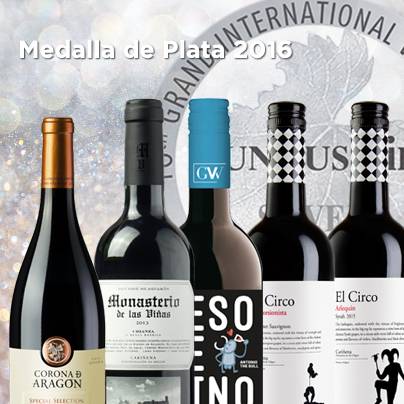 These new awards join the recent BERLINER WEIN TROPHY ones where Grandes Vinos obtained 9 Gold Medals and 1 Silver Medal. Six from these gold medals have gone to the main brands: ANAYÓN Garnacha 2013, CORONA DE ARAGÓN Special Selection 2013, CORONA DE ARAGÓN Rosé 2015, Monasterio de las Viñas Rosé 2015, Beso de Vino Rosé 2015 and HOY Friends 2015. The Silver medal has gone to HOY Relax 2015.
Also in the GRENACHE DU MONDE contest, where CORONA DE ARAGÓN received the Gold Medal for Garnacha red wine 2015 being one of the best wines in value for money and a Bronze Medal won on its first vintage CORONA DE ARAGÓN Garnacha Blanca 2015. Garnacha grape is the main variety in Grandes Vinos where it shows its maximum potential due to the age of its vineyards, height, stony soil and climatology, the strong and dry local wind "cierzo" helps the vineyard to regulate itself in front of plagues where the winery bets on replacing the insecticides by pheromones as a clean and environment friendly treatment.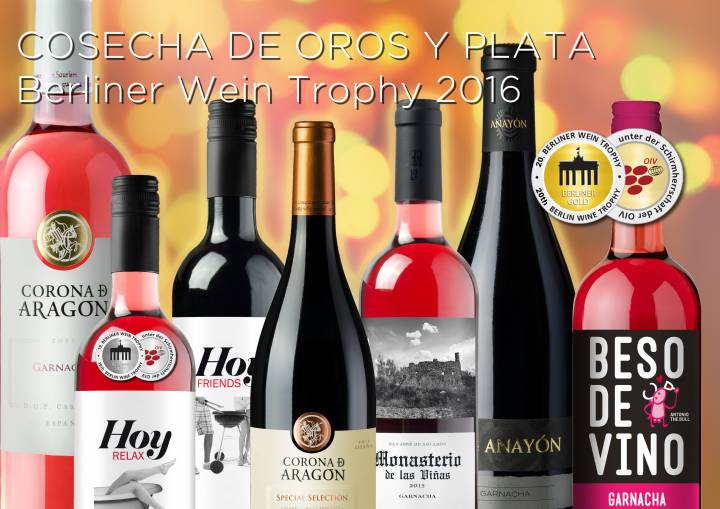 These recognitions are in addition to Silver BACCHUS of ANAYÓN Garnacha 2013 and the high scores received at the beginning of 2016 from VINOUS Magazine. It qualified 3 Garnacha wines from Grandes Vinos with a A ("wines with remarkable personality that worths to look for them"): ANAYÓN 2012 with 91 points and CORONA DE ARAGÓN Old Vine Garnacha 2014 and Beso de Vino Old Vine Garnacha 2014 with 90 points. Vinous magazine is an special influencer in the EEUU market where Grandes Vinos goes on with its comercial expansion.