Grandes Vinos maintains its strong commitment to the culture, history and cuisine of Aragon. Now, through the sponsorship of an ambitious project directed and coordinated by the Aragonese journalist Arturo Gastón, the winery aims to rediscover a great figure of Spanish cuisine, Juan Altamiras.
Our efforts will contribute to the development of several activities that will be developed from different cultural and academic, educational and informative and, of course, gastronomic and touristic approaches.
The goal is to honor the figure of historic chef Fray Juan Altamiras, a contemporary of another illustrious Aragonese: Francisco de Goya.
His real name was Raimundo Gómez and in 1745 he penned Nuevo Arte de Cocina, Sacado de La Escuela de La Experiencia Económica (New Art of Cooking, from The School of Economic Experience), one of the most influential cookbooks of the last 200 years.
His work is a benchmark of national but also international cuisine, a recipe book exported to the kitchens of North America, Central America and South America by Spanish travelers seeking their fortune in the New World.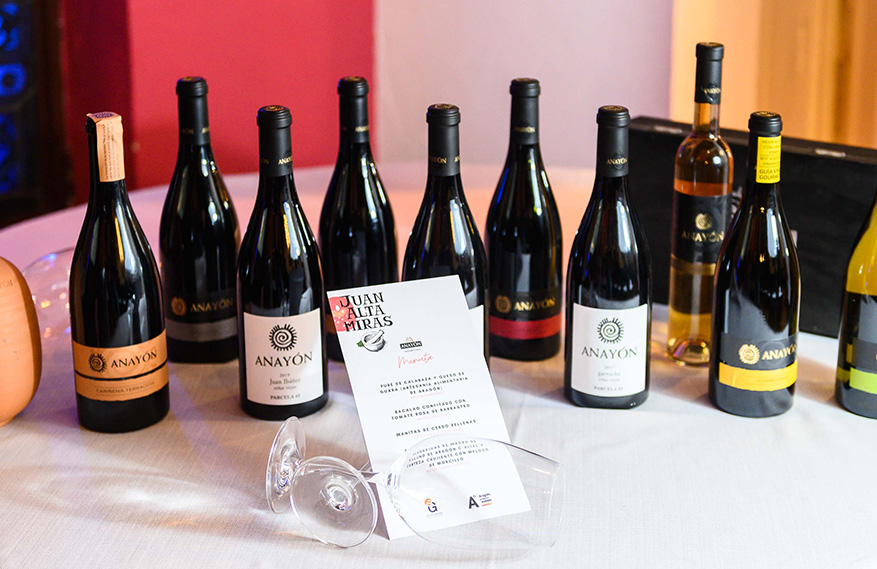 The project, which Grandes Vinos is promoting through our Anayón range, has the support of the Aragón Alimentos Nobles organization and the endorsement of the Royal Academy of Nobles and Fine Arts of San Luis.
Among the many initiatives that will be launched over the next few years to rediscover the figure of Juan Altamiras, the culinary route in which Aragonese restaurateurs will be able to incorporate the friar's recipes into their menus is particularly noteworthy.
The application for a street dedicated to Juan Altamiras will also be initiated, as well as joint activities with the Food Bank of Zaragoza, the Provincial Museum of Zaragoza and the Royal Academy of Nobles and Fine Arts of San Luis, which will help to promote the work of the brilliant chef, considered by historians as the Ferrán Adriá of the 18th century.
Likewise, prestigious chefs of international renown have been appointed "Juan Altamiras Ambassadors", who have expressed their commitment to reinterpret the recipes of the book and highlight the relevance of its author.
The Altamiras Ambassadors, who will be joined each year by new professionals, are:
Carmelo Bosque, Taberna Lillas Pastia. Huesca. Cod brandade cannelloni with honey.

Eduardo Salanova, Espacio N. Esquedas, Huesca. Green mutton. "Aragón suckling lamb" PGI in green sauce.

Toño Rodríguez, La Era de los Nogales. Sardas, Huesca. C'ALIAL rice with almond milk.

Diego Herrero, Restaurante Vidocq. Formigal. Braised chicken. Free-range chicken stewed with organic flour, toast and Jiloca saffron.

María José Meda, Hospedería El Batán. Tramacastilla, Teruel. Nun's puffs fritters with EVOO.

David Boldova, Restaurante Novodabo. Zaragoza. Aragon C'ALIAL beef.

Ramses González, Cancook. Zaragoza. Stuffed roast squab.

Ramón Aso y Josetxo Souto, Restaurante Callizo. Aínsa. The shepherd's path. "Aragón suckling lamb" PGI with bone curry in a Naval clay pot, spiced "Fuentes de Ebro onions" PDO, sweet and sour carrots and fresh herbs.

David Beltrán, Casa Arcas. Benasque. Truffle-stuffed partridge with pepper sauce, "Fuentes de Ebro onions" PDO, carrot juice and ginger.

Alberto Ferruz, BonAmb. Xàbia, Alicante. Cella potatoes and mixed greens in Jiloca saffron sauce.
During his speech to present the project, the CEO of Grandes Vinos, José Antonio Briz, underscored that "wine has always been linked to cuisine and has been considered food, and it is good to continue working along these lines, as well as to support the hotel and tourism sector."
The presentation of the project, which took place at the Novodabo restaurant, was attended by several authorities and representatives from the academic and business sectors. All the information and the numerous activities involved can be followed from the new website created as part of the project www.frayaltamiras.com.