Just a few months after its presentation, Iglup, the last novelty of Grandes Vinos has been recognized at Madrid Gourmets exhibition with the "Finalista" award to INNOVATION, the only awarded drink among the 1.000 exposed novelties.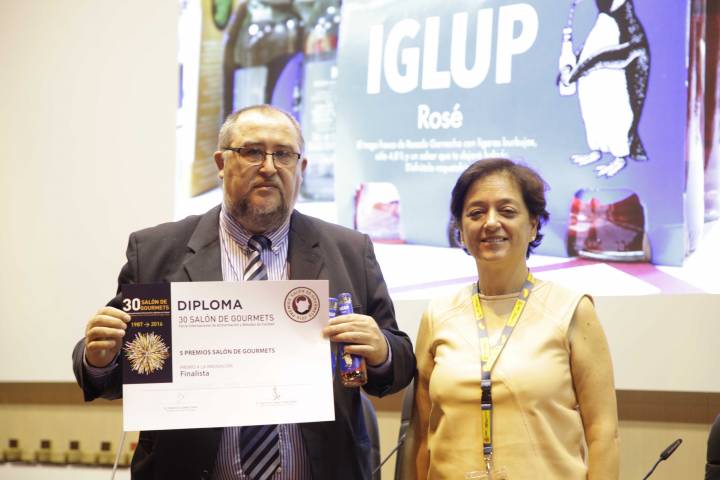 Captching new young consumers, from 18 to 30 years old, is one of the hardest challenges in the wine sector. Specially in Spain, where consumption is falling down since the last 10 years. Grandes Vinos has been selling new products and new marketing initiatives focused on this segment, and they have launched Iglup, trying to shake young consumers.
Iglup, the fresh grape gulp, is envolved in the last two consumption trends: low alcohol drinks, just a 4,8% of alcohol and natural drinks, no preservatives or conservatives, gluten free and low calories. There are two versions of Iglup, White and Rosé, made in base with Macabeo and Garnacha grapes respectively, high concentration and intensity of fruit which are diluted with carbonated spring water up to the graduation of 4.8%.
Not only the product development has focused to make it attractive for young consumers, easy to drink and refreshing thanks to its fine bubbles, but its design, which has been developed by Moruba Design Studio, one of the most prestigious Spanish Studios which presents a transparent bottle of 20 cl with crown cap, a format more identified with young consumers and that also covers a niche in specialty shops, tapas bars, Italian restaurants where this category drinks are only presented in 75 cl formats, and this 20cl capacity complements its offering to meet the demand of a couple or a single that at certain times do not want to consume a bottle of 75 cl.
Some of the bars or cocktail bars have also discovered a new way to enjoy Iglup by mixing it with other refreshments.
Grandes Vinos has uploaded a VIRTUAL REALITY and 360º video to its YouTube channel to transport consumers to the Artic with the penguin without traveling so far, once again to connect with this niche.